Brynhildur Inga Einarsdóttir:
It was a Wednesday morning and the aroma of baked goodies filled the house. There was a lot of excitement and anticipation because my mistress´s son was getting married. Hrifla had just had a litter and now and then we could hear the young puppies squeal a bit. I myself lay quite calm by the kitchen door and waited for my mistress to leave the kitchen.  I didn´t have to wait long as one of the puppies was in some sort of a trouble and my mistress went to see what the matter was. I know from observation and experience that she will take her time watching the young ones.  I waisted no time and hurried into the kitchen and lo and behold! My mistress had just finished baking and decorating the first cake. Yummi, yummi, what a splendid torte, all covered with almond paste and decorated with marvellous sugar flowers!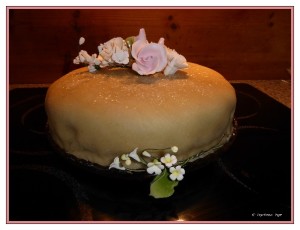 I jumped on the chair standing at the table and took a bite. Oh, was it good! I took another bite and decided to eat that cake, just finish it and then I licked the plate clean. My mistress will not notice, I thought as the plate is totally clean, not even a spot on it.   The other dogs didn´t get one meager morsel of the cake and they weren´t in the kitchen anyway as my misteress forbids them to enter the kitchen or hang out there when she is baking or cooking. I don´t care, just couldn´t resist that temptation. Once the plate was licked clean I hurried over to the other dogs and lay down there.
The little ones were fine and my mistress went back to the kitchen. I dind´t understand the excitement and all the fuss! There she was, standing in the middle of the kitchen, her arms flying like propellors, shouting "who snatched the cake?"  If I could´t  enjoy and eat that cake she shouldn´t have left it there for everyone to see. That is all there is to it.  I was totally calm and looked innocent but the othere dogs felt a little uncomfortable because they knew what I had done.
The next day my mistress baked another cake and that day she also went over to the puppies to have a look. I sneaked into the kitchen. Then I was really startled when she yelled at me "what are you doing on top of the kitchen table, you naughty cake snatcher?"   Oh dear, she had caught me that time and I had only just finished half the cake.
Today my mistress always calls me the thieving girl. I think that isn´t quite fair because I wouldn´t be snatching cakes and chocolates from the table if these goodies weren´t always there before my eyes and nose.
I am looking very much forward to Christmas because my mistress will bake a whole lot of cookies and there will be chocolates in small bowls all over the house. I am pretty sure I will manage to snatch quite a few!
Greetings from Reykjadals kennel.
Brynhildur Inga Einarsdóttir